Testimonies
"CRUSHED BY A TRACTOR" - Pastor Leo Strathman, Seneca, KS - Testimony

One summer day, my sons and I were getting ready to bale hay with the tractors on my farm, when I noticed that one of my cows were out, so I sent two of my sons with a tractor to get the cow back into the pasture. When they returned, I expected them to hook up to the wagon that I was sitting on, but to my surprise, they went to the shed instead. I saw my son, Mike get off the tractor and put something into the shed. Then he got back onto the tractor, looked around to make sure the way was clear, and began to back up. Then, there was a loud noise and Mike started screaming. I was more than four hundred feet away, and yet, I had heard the "crack" when the ten thousand five hundred pound tractor ran over my three and a half year old son, Justin's head. Instantly, I knew it was Justin. To make matters worse, the ground where Justin was ran over was "hard as rock", with no give at all.
When I arrived on the scene, Justin was stiff as a board. At first, I panicked, then the "peace" of the Lord came over me, and I began to pray. He was the first son, as a "born again believer", I had dedicated to the Lord. We called "9-1-1" and then, not wanting to wait, I put Justin in the pickup truck and started the twenty miles to the hospital. Within one mile, Justin quit breathing. I slid to a stop and pulled over and was ready to do CPR and then, I began to cry out to God, and he began to breathe again. This happened two more times on the way to the hospital.
We made it to the local hospital, the doctors told us, Justin would not survive since his skull was cracked. They immediately took him via ambulance to a bigger hospital with me by his side. At the time, I did not know a lot about the Word of God being a "newly, born-again believer", but I did know the Bible said, Jesus would do a miracle when His followers prayed and believed in His Name, the Name of Jesus. The Name Above All Names. I knew I could "stand" on the Word of God.
This happened on a Saturday evening, and all day Sunday, Justin was getting worse. There was pressure building up in his brain, and the doctors explained that his only chance was immediate brain surgery to give his brain a place to swell. They told me to "prepare to lose him" that he would die! The doctors said that areas of the brain would have permanent damage, affecting his speech and his right side. If he would live, he would have to spend months in Wichita, Kansas learning to talk again, that he would never walk without a limp, and that he would have to take medication against seizures for the rest of his life. The Holy Spirit rose up in me and I said, "NO, Justin will live and he will walk out of this hospital walking and talking in twenty days or less!"
The doctors took Justin's skull bone out from just above his eyebrows to the middle of his head to give his brain a place to swell. It was to be left out for eight weeks, frozen in nitrogen to preserve it. The doctors did not believe it could be put back after that time because of his age being three and a half years old, as the skull bone would not be calcified enough to keep in the nitrogen.
Justin was alive and unconscious for five days. When he finally came to, on the Fourth of July, we still did not know if he would be able to talk or walk. Two nights later, the duty nurse was eating a cup of yogurt while sitting by him. Justin looked up at her and plainly asked, "What are you eating?" She about lost it. We were seeing God doing miracles so great right before our eyes...Nothing is impossible with God! At that time, Justin could speak now, but still he could not move his right side.
On the twelfth day, the doctor came in and stuck needles in Justin's right foot to see if there was any change. He looked at Justin and said, "It's time for you to straighten up your act, raise that leg." To the astonishment of all, he lifted it up! On the nineteenth day, on my birthday, Justin walked and talked out of that hospital! A birthday present, I will never forget!
The skull bone was still out of Justin's head, so he came home wearing a protective helmet, but he was talking and walking, just like I told the doctors he would, in twenty days or less and it was in nineteen days! I stood in the "gap between life and death" or Justin would not be alive today! I spoke "faith filled word and life" over Justin! There is power in your words! The doctor's other concern was regarding the lining of Justin's brain, which was torn. They had patched it like an inner-tube, but he would likely have to have a plastic plate put in his head. I told the doctors that I was praying, that Justin was going to be fine, and he would even be able to have his own skull bone put back in.
Eight weeks later, the doctors did end up putting Justin's own skull bone back in, and a nurse said the brain lining looked perfect. We serve a Miracle Working God! Justin's miraculous healing has had a powerful impact in my family's life and the surrounding areas. Justin has been on the 700 Club with Pat Robertson twice. Once to see and hear him at age three and a half years old and then, six years later, when he was nine and a half years old, as a follow up story to show people he was totally healed and normal! At that time, Justin's story generated more ministry for the 700 Club than ever!
Today, the only evidence of Justin's accident is a scar under his hairline from ear to ear and only shows if he cuts his hair real short! Jesus Christ healed him totally! He is the same yesterday, today, and forever! Justin does not take any medication even today!
"...By Whose Stripes Ye Were Healed." 1 Peter 2:24.
Justin went to Manhattan, Kansas and completed his study in drafting. He is very talented with his hands, fixing business places and homes up with rock fronts and fireplaces.
"Blessing and honour and glory, and power, be unto him that sitteth upon the throne, and unto the Lamb for ever and ever."

Testimonies from Far East:
Power of God and Healing Power in the Name of Jesus Christ, lives were touched and transformed.
From the Far East:
One man with our Flyers led 547 families to Jesus Christ. All were Gypsies, mostly were robbers and killers.
God is really Mighty! A very big tumor disappeared on a woman while watching Pastor Leo powerful preaching. Many, many people accepted Jesus because of this miracle.
Pastor Please forgive me what i was speak and write you about all things. i know Jesus is true Jesus is true. i don't about Him before really i don't about him before i don't know about both of you before but last night i met a man in Long white dress and He was show me His hands and Feet and ask me see at my back there all your sin i was put on my back .oh my i was crying. then He call you Leo come in room i saw you personally i saw you wear long shoes and Sky blue shirt. then Jesus Said to you Leo give to this family. i saw you was open a big bag there lots of Bibles.then Jesus Love me and you very much. and Jesus was clean my tears and you and your wife was clean my tears.then i saw you and Jesus and your wife go another family.. please forgive me i know your man of God and Jesus is Live. i saw Him i saw you.....
---
we was there in another town and i was share the message with them. there lots of women crying and many young boys and girls are ready to accept Jesus chirst. i wast told them about Jesus Jesus IS the SON of God and Jesus IS God. For God so loved the world that He gave His only begotten SON, that whosoever believeth on Him shall not Perish, but have everlasting life. Jesus said; I AM the Way and the Truth and the Life and NO man comes to the Father but by Me! There is NO other name by which man can be saved! Jesus IS the only one who went willing to the Cruel Cross and shed His Precious Blood to wash away all of our sins, so we could go to heaven. Jesus said' Verily, verily I say unto you, Except a man be born again he cannot SEE the kingdom of God. The Bible says; If your name is not found written in the Book of Life, you WILL be cast into the Lake of Fire! The Bible also tells us; That we must believe the Jesus was raised from the dead with our heart and must CONFESS Him as our Lord and Savior with our MOUTH.
i was told them if you will accept Jesus Christ then all of you will go in heaven if not then every one will go in fire. because there is no way only Jesus is way for heaven. must we accept Jesus if all of you want go in heaven. then every body ask me for bibles. brother Leo when you will send bibles for us. and for that peoples they are crying for Jesus. please let me know because my heart want to go back to them with same message.
thank you very much.
---
Testimonies from Pakistan:
Report from Pakistan TV Channel: Two young Muslim women were in front of the TV and listened to the message "Jar of Oil" but in a few minutes they were filled with power of the Holy Spirit and start to speak in tongues. Now all the family want to accept Jesus Christ.
One lady came in our healing meeting with faith and she could not see and she had an eye problem for many years. When I laid my hand upon her eyes and prayed with faith, now she is able to see.
Many ladies had back, knee, and hip problems with pain, but all are healed. Grace had pain in her whole left side portion, now healed.
One lady had cancer and received God's Healing Power. One man could not stand or walk for many months, but he received God's Healing Power in the Crusade and now he is able to stand and walk.
Several girls and boys were affected by black magic and could not hear properly, the Lord healed them. Many people were possessed with evil spirits and they all are set free.
A boy who had severe fever, the Lord healed him. A lady with diabetes and magic evil spirit possession problem was healed and set free.
One man had magic problem for many years, believing in magic and following Satanic people, but God touched him and changed his life because he received the Lord Jesus Christ as his Lord and Savior and he now has his name written in the Book of Life.
170 new souls received Jesus Christ and 65 were baptized into the Holy Spirit and 40 took Water Baptism.
Testimonies from Pakistan on May 6, 2009 using the Anointed Prayer Cloth Pastor Leo sent: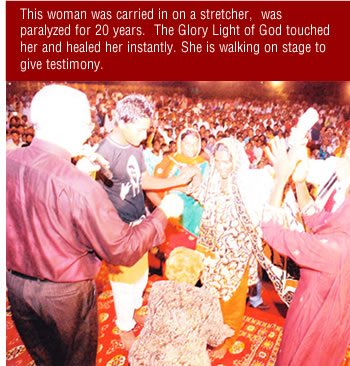 Young man had throat cancer for a long time. Put the Anointed Healing Cloth, used Anointing oil, Laid hand over him with faith, he received complete healing power from Jesus, the cancer is gone from his throat. Young lady had pain in her arm and shoulder, spending much money and no cure. Applied the Anointed Healing Cloth and she is healed. Little baby could not walk or stand on her feet, applied the healing cloth on her legs and she can stand on her feet and walk, she is healed.
A Young man had magic problem, layed hand and put Healing Cloth over him, so he is delivered and set free from the magic power in Jesus Name. Young lady had a magic problem and evil spirit possessed for a long time. When I layed hand and put Healing Cloth over her, she fell down on floor and evil spirit has gone away from her body, she is delivered from the evil spirit power in the mighty name of Lord Jesus Christ.
Many people had fever and bad cold and cough problem, after prayer, they are all healed in Jesus Name. Many receiving Lord Jesus Christ as their personal Lord and Savior.
Pakistan - Testimonies using the Anointed Prayer Cloth for the Glory of God, many people were healed from different kinds of diseases: One young man had some magic and heart problem but now he is healed and in good health and set free, In Jesus Name. One lady had back pain for many years but when we prayed over her with faith, she is healed, In Jesus Name. One little girl had leg problems since birth and she cannot walk, but now she is able to walk by the power of God, healed In Jesus Name, One lady had a weakness problem in her body, but now she is healed, In Jesus Name.
One lady has fever and sugar problem, but now she is healed, In Jesus Name. One man had evil spirit possessed, but now he is delivered and set free from the prison of the devil, In Jesus Name. One lady had unclean spirit possessed, but now she is delivered and set free, In Jesus Name.

Pakistan - An Amazing and Wonderful Testimony: My Father had an accident a few months ago and one of his leg's were broken. My Father was not happy. He was hopeless, worried, and upset and disappointed and he thought he would not be able to walk again. I told my Father about this Anointed Prayer Cloth that Pastor Leo sent me and I asked my Father - "Do you believe that Jesus Christ will give you Healing Power as I lay this Anointed Prayer Cloth over your leg with Faith?" My Father answered me and said, "Yes, of course. He can do it because HE is a great Healer!" I put this Anointed Prayer Cloth over my Father's leg with Faith. He was praying in his heart and saying these words from his mouth- "Lord Jesus Christ, Heal me, right now. I believe in you." The Healing Power of Jesus Christ came and touched my Father and he received complete healing and his broken leg has been fixed and bind again very well.
My Father can move, walk again with the Healing Power of Jesus Christ so he went up to our house roof, rejoicing in his heart and giving thanks to Jesus for this great and awesome healing.
One Lady who had Stomach Problems for many years and she was using medicine, but no cure. As I put the Anointed Healing Prayer Cloth over her, she immediately received the Healing Power in Jesus Name and is Healed!
One Man had Chest Pains and when I laid my hand and put the Anointed Healing Prayer Cloth over him. he received healing in Jesus Name.
One Young Boy had a Cough Problem in his body for many years, but as I laid my hand and put the Anointed Healing Prayer Cloth over him, he received complete Healing Power in Jesus Christ's Name.
One Lady who had pain in her head and so much weakness in her body she was unable to stand. I laid my hand and put Anointed Prayer Cloth over her body and she received Healing in Jesus Name and she was walking and rejoicing in the Lord Jesus Christ.
One Man had some internal problems in his body and many doctors checked on him, but could not find any problem in his body. He had a magic problem and evil spirit possessed him. When I laid my hand and put the Healing Anointed Prayer Cloth over him, the power of the Lord Jesus Christ set him free and he received complete healing from this problem in Jesus Name.
I went to my friend's house, he was sick and had a cough problem. His son, also was sick and unable to walk. I preached the Word of God among his family members and I told them about the Healing Power of the Lord Jesus Christ. I asked them if they believe in the Healing Power of Jesus? They said, "Yes, we believe." When I put the Anointed Healing Prayer Cloth and laid my hand over them, they received the Healing Power from the Lord Jesus and received complete Healing Power in Jesus Name. His son told me during the prayer, Jesus was touching his legs and body and he received complete Healing. When I prayed over my friend, sweat was coming out from his body and he received complete Healing Power in Jesus Name. His fever was gone. Jesus Christ is King of Kings and a Great Healer!
Twenty-five Young Men were passing life into darkness and wickedness and taking drugs for many years. Thanks be to God, HE has heard my prayers and touched all of them and changed their lives completely.
They all gave up this bad habit and delivered from this curse. They gave their hearts and lives to the Lord Jesus Christ. They are happy and glad in Jesus Christ now. Their families are so glad and giving "Thanks" to the Lord Jesus Christ .
One Muslim Family came and received the Lord Jesus Christ into their Hearts to be their Lord and Savior and all them were delivered from the evil spirits and from magic power in the Mighty Name of the Lord Jesus Christ.
Many people received Salvation, Baptism of the Holy Spirit, and Healed from their sicknesses, diseases, and free from demons and evil spirits. God is moving greatly among us in Pakistan. Pakistan - wants to share testimonies using the Anointed Prayer Cloth:
I pray for a lady with faith and she was healed in Jesus Name with a Brain Problem.
A man had asthama (Breathing Problem) and prayed for him with faith and he also received healing in Jesus Name.
A baby girl had Ear Problems since birth and she received Divine Healing Power from Lord Jesus Christ.
A young man was admitted to the Hospital and I went there and prayed for him with faith and our Lord Jesus Christ gave him Divine Healing Power and he was healed.
A man had a problem in his throat and was issuing blood for many days and was not stopping, but I prayed for him with faith and laid my hand upon him. He received complete Healing Power in Jesus Name and his blood stopped right then.
Praise the Lord for these Testimonies. We give Glory and Thanks to our Lord Jesus Christ. He is our great Healer and Savior, and Redeemer. Thank you for sending your Anointed Prayer Cloth. Love in Christ
From Ratna Kumar Potharlanka: India; His Faith is Increased , and he said, "I got a phone call from one of our church members that she needed an urgent prayer. Because she had uncontrolled pain in her left shoulder.. When I went there she was weeping with more pain. I placed the prayer cloth where she had pain. I prayed and after the prayer she was shouting with joy, the pain was gone!"
Another miracle at the same area. " A Hindu man came to me asked me that please pray for my baby. The baby is not well, when I went. The problem is that she is not drinking milk. I went there and prayed with the prayer cloth. They informed that she is drinking more now. My Faith is Increased, seeing God's mighty healing power at work through the Anointed Prayer Cloth." In Christ's Service, Pastor Ratnakumar.Potharlanka
"I want to share this testimony with you because Jesus Christ has performed a miracle in four lives. A Muslim lady came to me for prayer for her daughter and family. The daughter and other family members were possessed with evil spirits for a long time. I put the Anointed, Healing Prayer Cloth over the daughter's head, as I finished my prayer for her, she was completely healed and delivered from all kinds of evil spirits.
Then the Mother asked for prayer for her shoulder pain. And she received the healing power and was healed when I prayed for her.
Then His Father had leg pain with his knee swelling and I put the Healing Prayer Cloth over his leg and prayed for him. His leg was healed and pain was gone due to God's Healing power at work.
I received a phone call from a man whose Father was in the Hospital and he was told he would not live through the day.
The Father could not talk or eat and was very weak. With the whole family around him, I placed the Prayer Cloth on him and prayed with faith and immediately he could talk and wanted something to eat. When his entire family saw the miracle healing, they all asked Jesus into their hearts to be their personal Lord and Savior. My Faith is greatly Increased".